Paul L. Koenig
Artistic Director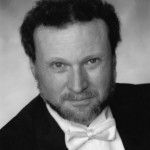 Paul L. Koenig has served as Voices of Omaha's artistic director since 2017. Koenig is no stranger to the organization; he first performed the tenor solos with the artists in 1997 and has sung many of the performances of Messiah since then.
Koenig earned his Bachelor of Music Education degree from Morningside College (Sioux City, Iowa). His Master of Music Education degree work was finished at Vandercook College of Music (Chicago). A career music educator, he taught in public school music programs at Sanborn, Iowa; South Sioux City, Neb.; and Omaha. He was minister of music at Dundee Presbyterian Church (Omaha) from 2003-2014. He conducted several major works for special services at Dundee Presbyterian Church including The Seven Last Words of Christ (Dubois), Christmas Oratorio (Saint-Saëns), Requiem (Fauré), and Messiah (Handel).
An active vocalist throughout his career, Koenig has sung with several area artists and organizations including Opera Omaha, Omaha Symphonic Chorus, and Soli Deo Gloria Cantorum. In 1978, he sang in the chorus at Saratoga Springs, N.Y. with the Philadelphia Orchestra conducted by Eugene Ormandy and Robert Shaw. He was also among the artists performing in the Classical Music Festival in Eisenstadt, Austria in 1984.
Koenig has also enjoyed serving as a voice instructor at Augustana University (Sioux Falls, S.D.); Creighton University and Grace University, both in Omaha. He currently teaches voice in the University of Nebraska at Omaha music school. Additionally, he was the interim choral director for UNO school of music in 2014-15.
Jamie Reimer
Soprano Soloist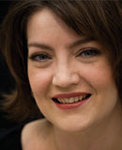 Soprano Jamie Reimer performs regularly in opera, oratorio, and recital venues with musical artists around the United States. She recently returned from a recital tour in Sydney, Australia. Concert appearances include performances of Mozart's Requiem, Handel's Messiah, Canteloube's Chants d'Auvergne, Beethoven's Symphony No. 9 and Choral Fantasy, as well as Liszt's Christus for the American Liszt Society's international festival. Favorite operatic repertoire includes Fiordiligi (Cosi fan tutte), Contessa Almaviva (Le nozze di Figaro), Erste Dame (Die Zauberflöte), and Anna Maurrant (Street Scene). She has performed with Opera Omaha, Omaha Symphony Chamber Orchestra, Lincoln Symphony, Hastings Symphony, and also the Northern Iowa Symphony Orchestra.
Additionally, Reimer enjoys musical theater roles. She has appeared as Tessa (The Gondoliers), Rapunzel (Into the Woods), and Martha Jefferson (1776).
With a particular interest in contemporary American art song, Reimer's research focuses on the life and work of composer Robert Owens. In 2012, she gave the world premiere of Owens' 4 Sonnets to Eleonora Duse, composed for her voice. She is currently editing the North American edition of Owens' opera, Culture! Culture! Reimer's work is published in the Journal of Singing and Pan Pipes. She is also a frequent lecturer throughout the United States and abroad for conferences of the National Opera Association, National Association of Teachers of Singing (NATS), Festival 500: The Phenomenon of Singing, the International Symposium for Performance Science, as well as the International Congress of Voice Teachers.
Reimer is Assistant Professor of Voice at the University of Nebraska at Lincoln (UNL) Glenn Korff School of Music. Her responsibilities include teaching applied voice and courses in opera techniques. She previously taught at Midland Lutheran College (now Midland University, Fremont, Neb.). Her scholarly work has earned several awards, including a NATS Internship, John F. Kennedy Center for Performing Arts Internship, the Othmer Fellowship, the Maude Hammond Fling Fellowship, and the Theodore Presser Scholar award.
Reimer earned the Doctor of Musical Arts and Master of Music degrees at UNL, and the Bachelor of Music degree at Hastings College. She is a member of the National Association of Teachers of Singing, College Music Society, the National Opera Association, and Sigma Alpha Iota International Music Fraternity.
WATCH Dr. Reimer's September 17, 2017 "Homage to Robert Owens."